October 31, 2014 by editor
Category:
Guest Writers & Artists
Write Vault welcomes back Kris Hulbert of Gratwick Films.
Today, Kris concludes sharing his personal journey to becoming a filmmaker. We find our passion on a different travels throughout the world, but as artists, we can all see the road is very familiar when we hear another's tale. To read Part One, [click here], Part Two [click here].
---
My 'Art' Has Hurt A Lot Of People
Part Three
by Kris Hulbert
In the Spring of 2011, shortly after we got rid of the Duo, a representative from a Lionsgate subsidiary contacted me about the rights to our film. I had been submitting the film for distribution for the past few months when I suspected lack of action from the sleazy twins. He asked the question most every filmmaker dreams of being asked, "What do you want for your film?"  I consulted with a few people and, based on some of the marketing plans we were preparing, we responded with what were led to believe was a fair request.  I asked for enough to repay the investors and then a fair percentage of profits after going forward.  $150,000 was enough to repay everyone at that point.  His response was a crude lecture about how ignorant I was to "how things worked", and that I should "give them the movie for free" so I could "pay my dues" and then "get paid from making bigger movies".   "But what about my investors?" I had the nerve to ask.  He responded, "They invested in a first time filmmaker, everyone loses that money, just have 'em write it off."  Well aware of what my investors had sacrificed to come up with that money, I told that man something he never heard before: no.
At that time, I explained to all my investors, for better or worse here was where we were and here are our options. The good news was we clearly had a good movie, but the bad news was it was going to cost us more money to get a sales agent, cover deliverables, and have proper legal representation to protect us if we are going to sell the film to the industry.  No one wanted any part of those expenses, the consensus was "you screwed us out of our pay day, you fix it".  They were angry and they had no interest in educating themselves on how film distribution worked, they just wanted their money back.
By now there were only three of us left trying to support the film: my girlfriend/partner, myself, and one of our actors, who I had come to believe was my best friend, brother, and the white Knight I couldn't be. The other "producers" had abandoned the project, they were content with the pretty addition to their resumes and held no regard or accountability for the investors, of whom none had any personal connection.  The three of us were all that were left, all for one and one for all, we lived together and poured every dollar we could hustle into surviving and covering the expenses that came with promoting and selling the film.  In an effort to be innovative, cost effective, and to set our film apart from all the other indie horror films, we made a deal for our film to be the first movie ever to premiere on Facebook.  We even got coverage in Variety.
We set October 1, 2011 as our date and delivered what we thought was good news to our investors.  Here was a plan that allowed all of us to control our own destiny. If each of us (investor) put in just another $1,000, we could execute a smart, savvy, professional marketing plan surrounding the reason of the film. In doing so, we could reasonably expect positive returns by the end of 2011. Two or three of our most ardent investors had our backs, but the rest, including my personal family, wanted no part of it.  My partner and I continued to borrow money to survive from other family and friends who chose not to invest in the film, but cared enough to lend us money, money we then had no choice but to put into the film.  We did what had to be done while hoping every single day we would find a trustworthy mentor or an advisor that would take us under his wing and shelter us from the storm.  That person never came.  Even without the support of our investors, we spent the entire summer of 2011 preparing other means to execute a full scale bus tour around the country.  We used podcasts and Youtube to build fans and we made promises.  We had interest from a handful of brand sponsors, but none of them had the courage to jump in first, so we couldn't pay the bus deposit all of them required as part of their sponsorship agreement.
When we ran out of time, we recalibrated the plan again. We sold everything we had left, (our cars and small electronics) to keep our word to the fans we had made so far.  We promised a cross country tour and we would deliver.  The three of us put our clothes and furniture into storage, gave up our home again, and scraped together our last $2000.  With that, we bought a 1972 RV, fixed it up, and hired a street graffiti artist to paint it like the movie poster.  With our last $500 and a borrowed projector sent by a fan we never met, we headed out into the unknown.  We set out to host guerrilla pop-up screenings anywhere we could as we made our way along the southern coastline and up the east coast to Buffalo for the October 1 premiere.   We survived 45 days (12 in the worst heat wave in Texas history) on nothing but gas money donations after each screening.  Everyone who saw the movie loved the it, and with reactions like that we had to keep going hoping to catch a spark.  The trip was a brutal, sweltering test of endurance, perseverance, love, and friendship.  We eventually put together a free documentary on Youtube from all the footage we shot while on the road, which is hours.
When the big day came we had a countdown party in Buffalo with the close friends and family who still stood by us. We celebrated what we thought was finally the end of the dark period, we had successfully delivered the film to the path of redemption.  Once midnight hit, for every view a payment is transferred via paypal then an update is shared on the viewer's facebook page before and after the viewing.  We planned to use the money from the first wave of views to finance a small expanding online ad campaign that could snowball out appropriately.   We went to bed champions.
We woke up to a crisis.  Thousands and thousands of people had tried to watch the film overnight, but a Facebook update at exactly midnight had caused a glitch to the platform that left the pay button inoperable.  For 2 weeks the Facebook hosting platform denied the glitch's existence. By the time it finally was acknowledged and rectified, we were dead in the water and homeless.
Winter was coming on the east coast and my gf/partner's parents once again sent us money they didn't have so we could buy gas to get back home to Los Angeles in a dying RV with walls that were on the verge of ripping off. When we made it back to L.A., we lived out of the RV in a Target parking lot for a few weeks until we could find a new apartment.  During that time, we suffered through a personal and private experience that is not mine to share.  Our 3rd road partner suddenly had a secret stash 401k funds that he had kept hidden and he moved in with a girl he had been sexting during the trip.  His plan was to take a month to get settled and then we'd meet up to discuss how to regroup and deliver on all the promises we had made to fans on our way around the country, the investors still counting on us, and all the cast and crew who rightfully deserved to have this film be their big break.
A month later, we met up at a bar and he told me that because he could afford to live comfortably for a while he was in no hurry to do anything. He wanted to bum around and 'pursue a solo writing career' so when the time was right I could make his movies.  He felt he had earned the right to do his own thing while I continued to build "our company" and repay the emotional, personal, and financial promises.  I was devastated and felt soul crushingly betrayed as a business partner and as a best friend.  A year later, he returned to the family farm back East and works as a mechanic.  We have never spoken since that day in the bar.
In the three years since we crawled out of Buffalo with our tails between our legs, I haven't spoken to most of my family, friends, and others that helped make our dream come true.  Not because I've hidden from them, but because gave up on their money and on me.  Long ago, most of them wrote the film and me off as a loss. They didn't care how hard I tried or that I was risking my own career and reputation to protect their right to be repaid.
Along the way my girlfriend and I have been harassed with threats and phone calls.  One of the Sleazy Duo's investors committed months to emailing and texting me every morning to twist the knife as soon as I opened my eyes. I often wonder if he ever spent one day doing the same to the duo.  Family friends who only invested to 'support me' still made snide Facebook comments or snarky replies to company newsletters, often referring to what they could be doing with the payday I cost them.  I even heard one investor, who only invested the bare minimum $1000, was living out of her car.  A thousand dollars doesn't fix those kinds of problems, but large profits certainly would have.
The most painful investor situation that I am not personally connected to came from one of the sleazy duo's investors.  This person had saved their entire life to pay for their own dream wedding and in the years between when they gave that nest egg to the film and the years that followed, they went on to meet, fall in love and plan that dream wedding, all the while holding off until she finally gave up believing this film would ever provide that opportunity for her.  Often times, it's the ones that don't say anything that hurt me the most, the blue collar friends who knew they couldn't really afford it then and could really, really use that money now.
The darkest moments came about a year after the failed Facebook release.  The stress and pressure of everything wreaked havoc on our relationship, there were times we wanted nothing more than to break up and be done with each other. We were constant reminders of what had happened, but we were too broke and too loyal to people who, for the most part, hated us to walk away.  We were stuck together in a hell of our own creating.  But the hardest part for me was that my mother didn't just give up on me, which she had always done, but she had also given up on the large sum of money she had sunk into the film, money she didn't have and would certainly need one day.  Things got so dark that suicide beckoned as an honorable business decision in a cynical world like a captain going down with the ship for the sake of everyone onboard.  But, in the end, spite wouldn't let me go through with it.  There was no damn way I was going to let these people be right. I was going to succeed in spite of them and then shower them with so much "I told you so" money that they would feel guilty for the rest of their lives.  That's when it hit me that the reason I wanted to succeed in the first place was dead. I had wanted to create a company that would bring everyone closer, that would give me the resources to protect and provide for every person I cared for. From that desire, I wrote a script called 'Just Drive', a contained thriller about a famous man whose ambition cost him everything but his integrity and morality. And that was when it hit me, my art exposed many of the people I cared about and, in doing so, it freed me to be a person that can use his art to bring all people closer, while protecting and providing for so many more.
The film has gone on to salvage distribution agreements, but it will most likely never see any return large enough to make things right.  It has become everything it set out to avoid, another indie distribution horror story.
But we the filmmakers, the son and daughter, the friend and relative, whose greatest crimes were our undying loyalty to the people we love and achieving success beyond our wildest expectations, continue to live.  We live with the emotional and financial debt, the driving guilt, the abandonment, the lost time and relationships, and the constant reminder that our greatest accomplishment caused pain for so many people.  We live with the knowledge that amongst the chaos and while almost everyone took our enormous feat for granted, we found ourselves.
Today the two of us love each other more than ever and we continue fighting to create and build our version of success. Not for fame and fortune, but because it's who we are and how we're going to make things right.  All the pain and suffering pushes and drives us to wake up every morning and inspires new stories to be written.  Personally, I keep going because it's how I express and deal with my pain, but also because I need to succeed on a level that provides me the opportunity to pay my family back, even if it I know it's for superficial reasons.
So while most everyone else chases a dream for all the wrong reasons, I fight everyday for another opportunity to do what we were put here to do and to do it at a level that causes more joy than the pain it takes to get there.
I'm not telling you not to make a movie or to pursue your art, but I am telling you to make damned sure that you are ready to handle the kind of hurt and pain that bringing your art into this world can cause, especially if you're really good at it.
---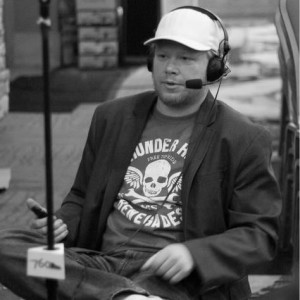 Kris Hulbert is an independent filmmaker and storyteller with a compulsive obsession with the truth.  In 2007, I founded Gratwick Films, a company committed to our model of Social Filmmaking. Social Filmmaking uses total transparency to create socially interactive entertainment that is also socially responsible and accountable. To accomplish this we surround every film we make with real time reality style content documenting the making of the film.  We then use our entertainment to raise money and awareness for causes that benefit society.
Tags:
Comments: Comments Off on My 'Art' Has Hurt A Lot Of People, Part Three by Kris Hulbert
---
No Comments
No comments yet.
RSS feed for comments on this post.
Sorry, the comment form is closed at this time.