May 24, 2013 by editor
Category:
News
We chose our three main U.S. Competitors for a service comparison.
Information was taken directly from each company's website.
Digital Registration Services are nothing new, many of the companies listed here have been around for a very long time. But at Write Vault, our main concern is you, the artist, designer and writer.
We think it's important to create an independent system which allows artists, designers and writers to protect their documents without emptying their wallets.
We also think your registration should last longer than the average, and for the price, we beat all of our competitors. Write Vault is also on the forefront of technology, making sure your work is protected with the most secure encryption methods available.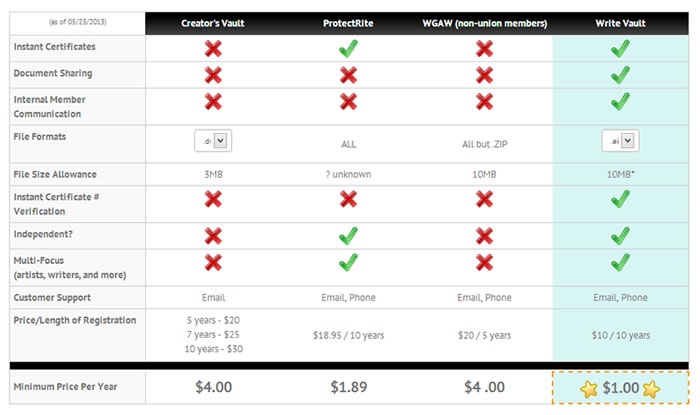 For a larger image, Click Here
We excel in almost every area.
As you may notice, we do not accept all file types and for good reason.
Accepting all file types opens a system to uploaded malware or viruses that can be exploited. This is a security risk to your data and our network, so we have confined the list to the most frequently used file types among artists, writers, and designers. If you would like to have us add a file type, please contact us and we'll review it.
* 10mb listed above does not include an additional 5mb we offer for cover art!
Tags:
Comments: Comments Off on Service Comparison
---
No Comments
No comments yet.
RSS feed for comments on this post.
Sorry, the comment form is closed at this time.